Pegasus by Jürgen Lutz
The Pegasus is the follow-up design to the Experience, designed by Jürgen Lutz in Germany. It is controlled by weight shift and aerodynamic controls. The pilot uses weight shift in 2 axes (pitch and roll). In pitch, the weight shift alone controls the glider. In roll, the sideways motion of the pilot activates spoilerons through a cable linkage.
Specifications
Span: 11 m (36 ft.)

Area: 15.2 sq.m. (164 sq.ft.)

Nose Angle: 140˚ (See 3-view drawing here)

Weight: <40 kg. (<90 lb.)

Transport Size: 0.2 m x 0.65 m x 5.8 m (8"x25"x19')

Min. sink rate: 0.75 m/s (150 fpm)

Best glide ratio: 16:1 (See polar curve here)

Price for the first 5 units: 19 800 DM
The following information is supplied by the designer.
"For what type of pilot is the Pegasus designed? For ambitious performance-oriented pilots, as well as pilots who want a high level of performance and safety." (from the designer).
"The Pegasus is a high-tech product with a number of advances:
On the ground:
Transport on your car roof and on ski-hill lifts
Very rapid set-up through a folding rib system
In the air:
Low stall speed for safe take-offs and landings, which also provides high height on winch-tows
Untiring flying through precise, light handling
Safe flight feeling even in turbulence
Proven & effective control system tested on many x-c flights and in the 1994 European championship
Low tendency to tuck due to the linear pitching moment curve, unaffected by wing-loading
Spoilers for low sink rate in thermals, good glide in transitions, and the glide ratio of a paraglider on final landing approach
Problem-free adaptation for hang glider pilots due to the control through weight shift
Other facts:
All of the components can be easily repaired or replaced
High safety and quality levels through the use of aircraft and spacecraft materials
The construction is by qualified persons with aircraft technical training
Pictures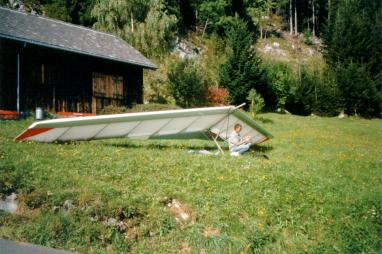 You can reach the builder at:
Lutz Drachenbau
Wühlestrasse 18/1
D-73235 Weilheim/Teck
Germany
Tel 07023/72324
Fax 07023/73389