Delka by Laurent de Kalbermatten
The Delka is a unique design by Laurent de Kalbermatten of Switzerland.
The Delka featured the pilot located in the plane of the wing, thus out of the airstream and causing less drag.
The prototype Delka suffered an accident in flight off a high mountain (pitch stability problem?), and the test pilot, Didier Favre, was killed. Development of the glider stopped at that point.
Specifications
Area 13.7 m2

Weight 25 kg. 

(including harness)

Span 

10.5 m

Folded length 2.5 m
Video/pictures of the Delka
Delka in flight, viewed from above (cover from Cross Country magazine), June-July, 1994)

Delka in flight, viewed from behind, soon after launch.

Delka's test pilot Didier Favre (left) and designer Laurent de Kalbermatten (right) celebrating the first test flight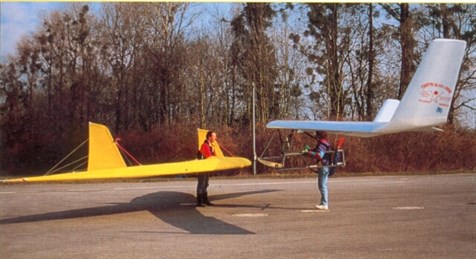 Comparison of the Delka and the Swift
Delka folded down